Kick-start your career for life
Giving smart, motivated graduates everything you need to become a game-changer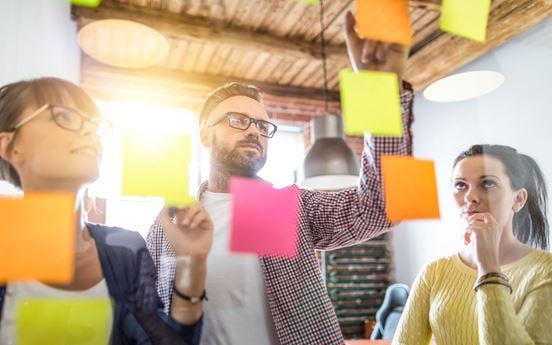 A graduate experience like no other
Looking to start your career in a growing, progressive technology company with an award-winning culture and dedicated training and development programme? A graduate career at Kainos could be for you.
Whether you start your career with us at the end of your degree, or you come to us for your placement year first, we will invest in you from your very first day. From there, global opportunities await – whether that's engineering and designing innovative software, writing new machine learning algorithms, or helping our clients get the most out of Workday. Exciting, right?
Fulfil your potential with our Entry Level Development Programme
A unique culture which values and invests in new talent? Check.
A full-time, permanent job, working on real projects for real clients? Check.
And a tailored development programme which gives you everything you need to get to where you want to be? Yep, you guessed it – check.
Our unique graduate programmes have three stages, all designed to help you have the best experience possible.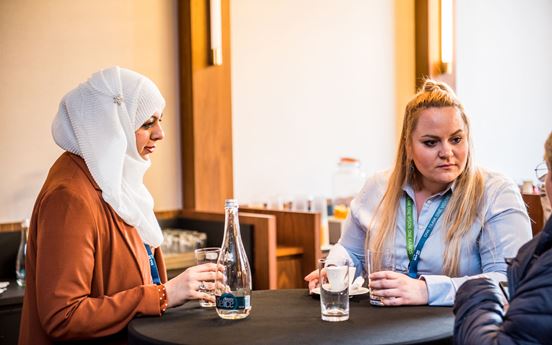 1. Entry Level Academy (4-7 weeks)
Your initial learning phase involving virtual or classroom-based training, discussion sessions and experiential learning, supported by Kainos experts.
2. Entry Level Programme (up to 18 months)
You'll then be placed in your project or team, where you will apply your learning and get involved in meaningful work to help you develop professionally and technically. You will also attend professional and technical skills courses to support your development.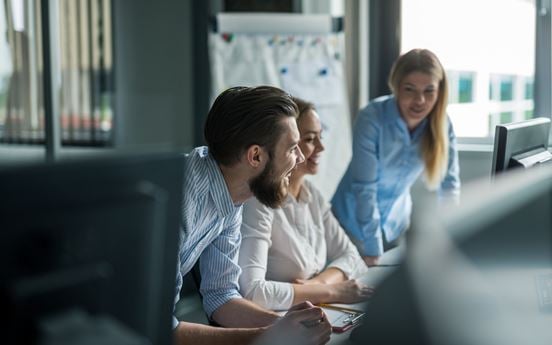 3. Ongoing support
But the learning doesn't stop there. For the rest of your career at Kainos, you will be supported, from one-to-one career coaching to regular catch-ups with your peers from your ELDP class. And you'll have access to our dynamic development programme to help you get to where you want to be.
Unbeatable roles for graduates
We're always on the hunt for the very best new talent. Take a look at some of our entry-level and placement opportunities.
Joining a big, global company as a graduate can be daunting, but at Kainos, I felt supported and valued right from the start. There's no graduate imposer syndrome here - you are treated as a valuable team member and provided with ample opportunities to get involved in exciting projects.
Clare McConnell
Workday Data Consultant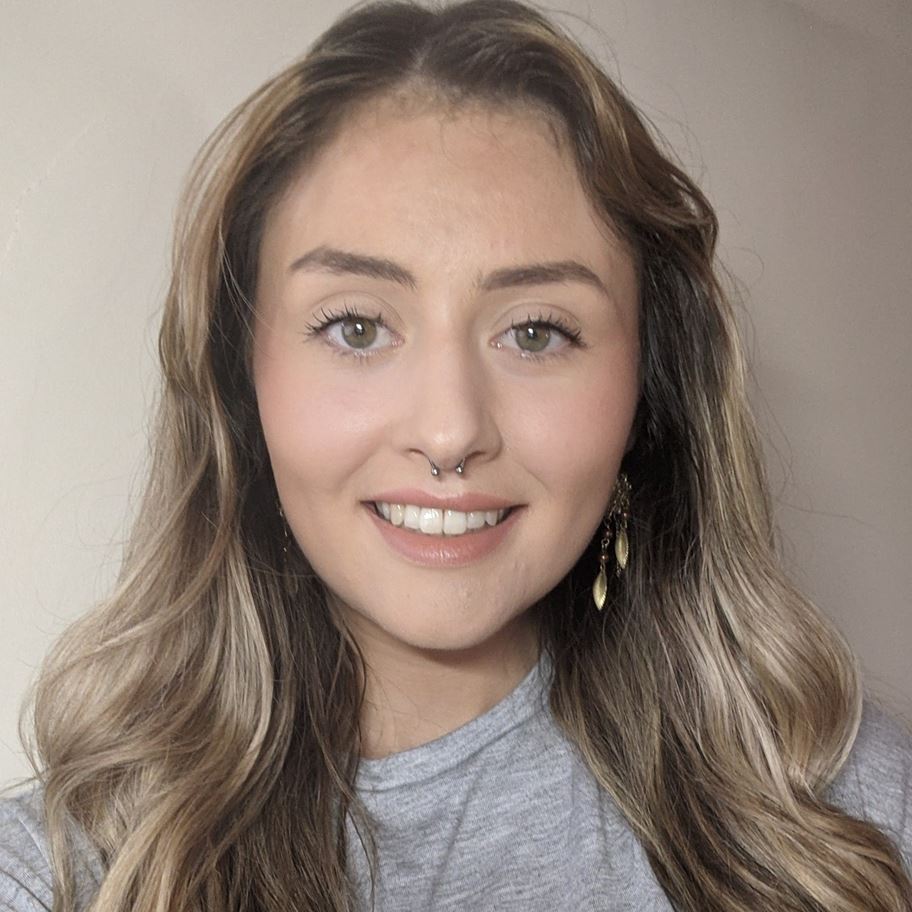 There's something special about working at Kainos

Work with the latest and greatest tech
From Azure, Kubernetes, and Workday, you'll use the latest tech to make a real-world difference

A new challenge every day
You'll get the chance to work across disciplines and sectors to find out what makes you tick

Go wherever you want to go
With a career lattice and regular promotion rounds, you're in control of your career

Real client projects right away
You'll be working on life-changing projects for huge names straight away
Work at the forefront of technology
Here are an overview of some of our current graduate roles.
Graduate Software Engineer (Engineering Capability)
Contribute to solving problems and producing/developing innovative software solutions, working alongside experienced developers to work through designs and user stories.
Graduate Test Engineer (Engineering Capability)
Work within a multi-skilled agile team, developing and executing functional automated and manual tests. Helping to deliver working application software that meets user needs. All while learning new technologies and approaches.
Graduate Data Engineer (Data Capability)
Work within a multi-skilled agile team, to develop large scale data processing software. The role encompasses the full software lifecycle; design, code, test and defect resolution.
Graduate Data Analyst (Data Capability)
Match the needs of data insights, with understanding available data. Working closely with customers to produce insight products including; reports, dashboards and visualisations.
Graduate AI Engineer (AI Capability)
Contribute to the development of high quality solutions, which integrate AI and ML technologies. Gain awareness and learn about new AI technologies, frameworks and approaches, from colleagues.
Graduate Data Scientist (AI Capability)
Contribute to the development of high quality solutions, which integrate AI and ML technologies. Gain awareness and learn about new AI technologies, frameworks and approaches, from colleagues.
Graduate UX Designer (Design Capability)
Create exemplary digital services as part of our growing Design capability. You will deliver intuitive service experiences based on user needs and design principles. Advocate for design thinking and impact lives.
Graduate User Researcher (Design Capability)
Deliver actionable insights that help design the right service experience. You will be passionate about design research and an advocate for user-needs based design, design thinking and service design.
Graduate Platform Engineer (Platform Capability)
Automate, build and support modern digital services platforms, using public cloud technology. Use the latest technologies to extract maximum user and business benefit. Be mentored in an inclusive DevOps culture.
Graduate DevOps Engineer (Platform Capability)
Develop your passion for design and developing infrastructure components within an Agile environment. You will build upon shell scripting, networking skills and coding knowledge.
Play your part in the world's biggest brands
Here's just some of the household names we work with: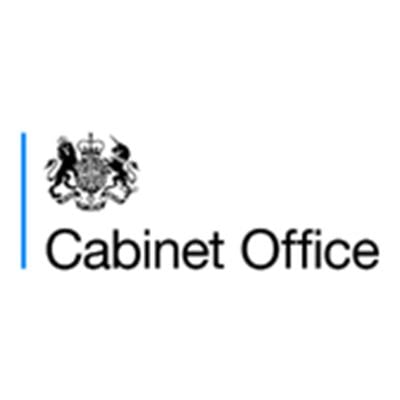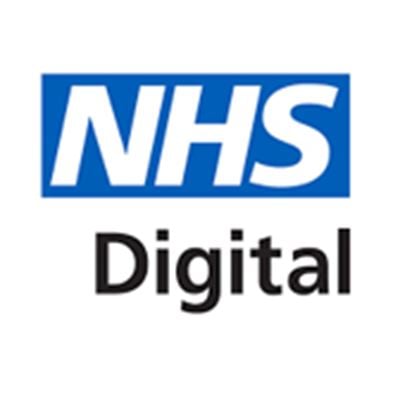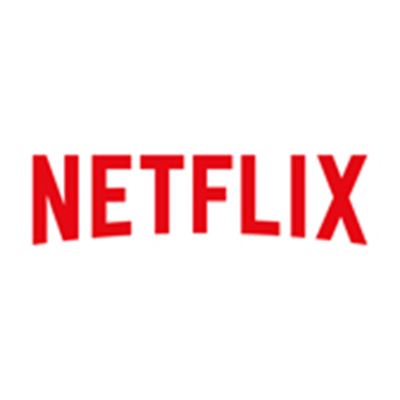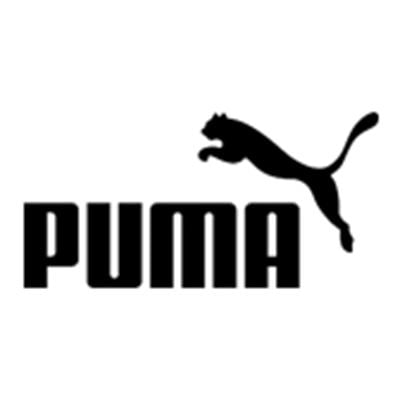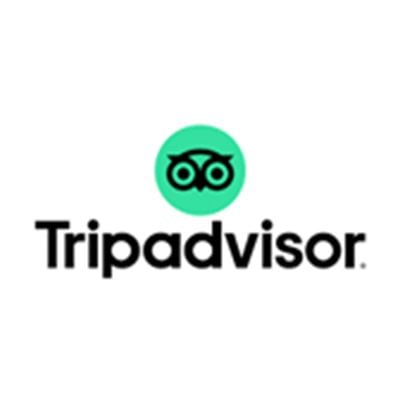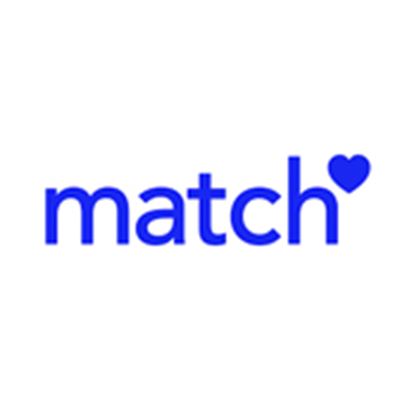 Hiring timeline

September
Roles launched

November / December
Interviews and assessments

December
Offers issued

June/July
Start date!
Unbeatable benefits
It's not just a competitive salary, life-changing career development, and a unique and supportive culture that we offer. With a range of benefits designed to work for you, we look after your health and wellbeing as much as your progression.

Flexible working
Where possible, you'll be able to work from home and around our core hours.

Certifications
Gain recognised certifications and new skills

Retirement savings
Benefit from excellent retirement savings schemes.

Health Insurance
As a Kainos employee, we will provide health insurance for you.

Volunteering
Two days off per year to volunteer for a charity of your choice

Payday drinks
Celebrate with monthly drinks and nibbles at a local bar on us

Career coaching
Your own mentor to help you navigate your future career

Desk and chair allowance
We'll pay for your home office setup to make sure you are sitting comfortably!
Start your career for life
You're just a few clicks away from pursuing an amazing career at Kainos!
Connect with us
If you want to kept in the loop with all of our upcoming student and graduate opportunities, fill out this form to stay in touch.