Mining Rush
Mining for value through data analysis
When it comes to digital transformation and process optimisation, process mining is not a new concept, but instead, the technology has been around for a few years.
Over the last five years, process mining technology has significantly grown in popularity. Gartner - Market Guide for Process Mining, 2021, identified the growth in artificial intelligence (AI) and the abundance of data generated by the standardisation of processes through low-code no-code applications as key driving factors for adoption.
During this period, the market has experienced a surge in process mining tools. Whether through partnerships, mergers, or acquisitions, 2017 to 2021 saw a variety of new vendors enter an already competitive market. Competition has only increased as more low-code no-code vendors such as Microsoft (Power Automate/Platform) have entered the space with their own process and task mining tools. Such a surge in vendors and tools has caused an excess in supply in the industry, causing existing players such as ABBYY, Celonis, and UiPath to battle to become market leaders.
What is Process Mining?
Prof.dr.ir. Wil van der Aalst, 2021, described Process Mining as a data discipline to provide organisations with continuous data insight into their processes as they are, instead of how they are perceived to be. Process Mining enables a granular view into each step and the applications used to complete a given process.
How does Process Mining work?
According to the Process Mining Manifesto, 2011, process mining tools enable businesses to identify inefficiencies and bottlenecks across well established and mature processes by analysing large quantities of data logs produced by one or multiple systems (e.g., desktop and web-based applications, documents, and other devices). These event logs, or digital footprints, are compiled and usually displayed in schemas or process models. Each log represents an activity, or a step completed as part of an end-to-end process.
To create a schema, most tools require at least three unique characteristics, e.g., a Case ID, a Timestamp, and an Activity Name. Using a client onboarding process as an example, a Case ID would represent the client ID within a given system. The Activity Name would represent the step executed (e.g., 'Registered'), and a Timestamp would indicate the time the action started or finished
Although popular, why are businesses struggling to adopt processes mining?
Covid-19 has had a negative impact on the overall process mining market (Business Insights, 2022). However, it has further solidified the need for automation and digitalisation due to the drastic change in customer behaviours and operations across companies.
With the increased demand for software to improve efficiency and decrease cost, there is also a demand for software to provide real-time insight into existing processes. However, the pandemic has also shown that companies were not as prepared for automation as expected. In most cases, processes were not as mature or well documented as expected. And in some cases, processes were not fully digitalised.
Such constraints, which are common amongst automation projects, pose as restraining factors against process mining. While process mining is excellent to gain insights into bottlenecks and inefficiencies, the technology is heavily reliant on data and the quality of the data available to be analysed.
How to make the most of process mining technology?
To successfully adopt process mining, organisations must look at it as a continuous and ever-evolving automation journey. 
While low-code no-code applications are a great starting point, due to their ability to standardise processes, without the proper guidelines and standards, the data produced by existing solutions may not be suitable for process mining. Therefore, it is paramount to consider how the data will be used when standardising existing processes.  
Once quality data is available, there are three types of use cases when implementing process mining. These are Discovery, Conformance, and Enhancement. Similarly, these use cases should be considered as a continuous cycle instead of independent.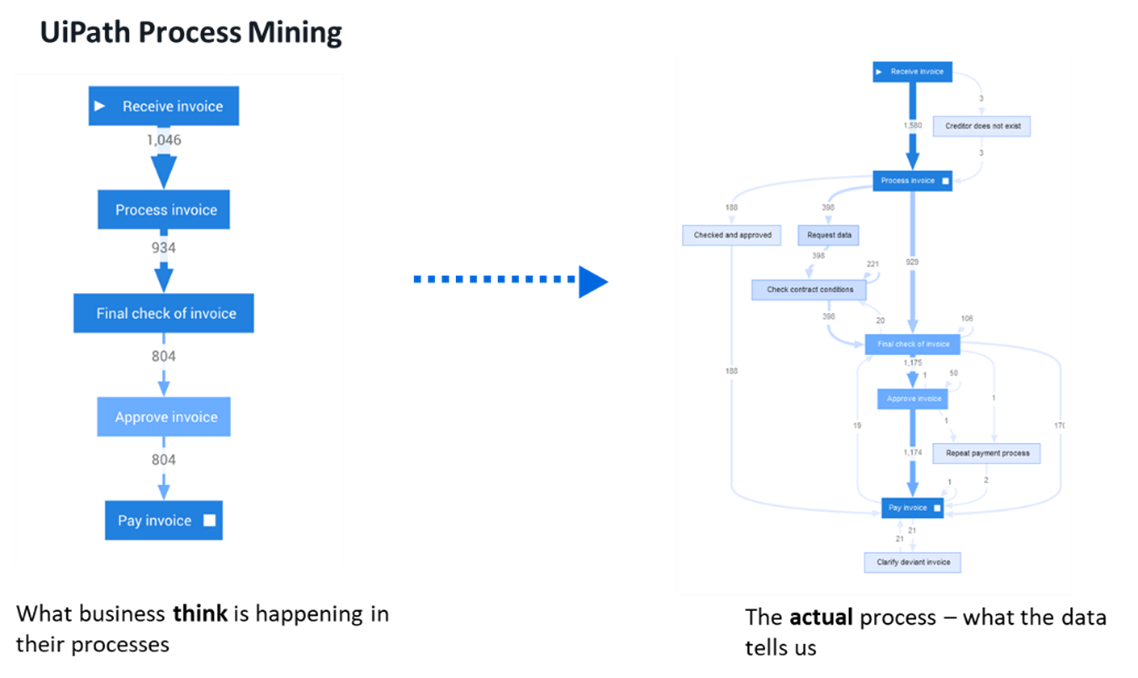 Discovery - The most common use case amongst companies, by analysing the existing digital footprint, process mining is able to provide real-time insight into existing processes, their inefficiencies and bottlenecks. 
Conformance - Although a more advanced use case, conformance enables businesses to evaluate whether a process is running as expected by comparing existing process models to the actual schema created.
Enhancement - Using conformance and discovery to enhance the existing process model and documentation. Ensuring documentation is up to date and reflective of how a process is performed.
While data quality, standardisation, and selecting a suitable use case are essential for a successful process mining implementation, companies are often presented with challenges regarding granular information on tasks performed by users between taking part in enterprise-level processes.

At Kainos, we have developed standards and best practices on low-code no-code applications as well as mining tools to ensure our clients can truly scale their automation journey.
If you are interested in learning more about our automation capabilities, get in contact us below to hear from one of our automation experts.
See how we can help your business
Complete the form to find out how we can help you change the way you work for the better