Market leaders saving Workday customers 1000s of testing hours
Smart Test is the only award-winning, automated testing solution built exclusively for Workday.

It's the leading dedicated Workday testing product on the market, the most trusted, and today it safeguards more Workday tenants than any other solution.
Devoted to Workday for over a decade
We've been testing Workday since becoming a Workday partner in 2011. Smart Test was launched in 2014 and today, we have 300+ customers worldwide. It is the market-leading dedicated testing product built exclusively for use with Workday.
Request pricing
Know which Kainos Smart modules you need and are ready to talk specifics? Contact us so we can help you work out the optimal level of test coverage for your budget.
Comprehensive test coverage across your most critical Workday products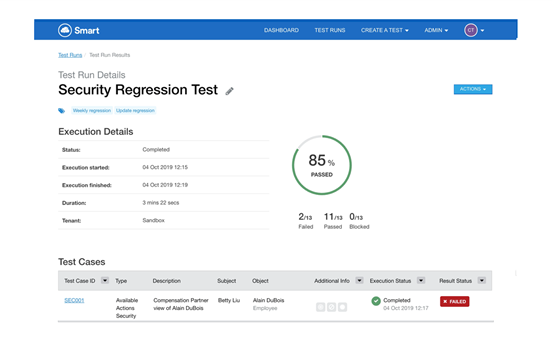 Every Smart Test module includes automated testing of WORKDAY SECURITY — including field security checks and access to actions on Workday objects.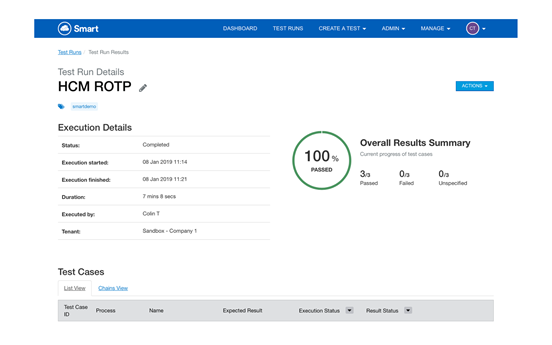 HCM TEST COVERAGE INCLUDES: core HCM, compensation, benefits, time tracking, absence, and recruitment.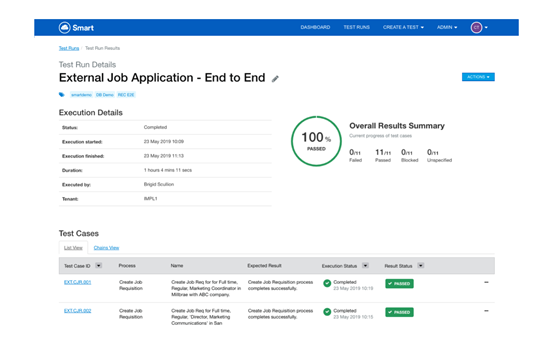 WORKDAY RECRUITING TEST COVERAGE INCLUDES: external and internal candidates job application flow and offer letter testing.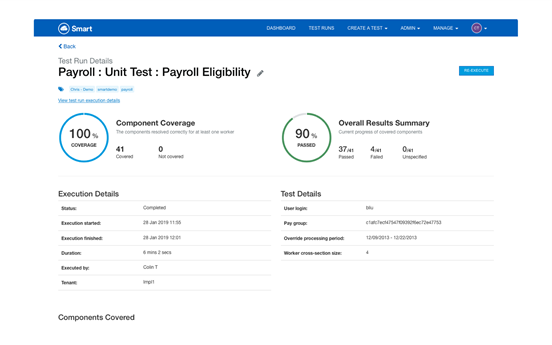 PAYROLL TEST COVERAGE INCLUDES: pay components, pay stubs, plans, limits, taxation, and effective dated changes.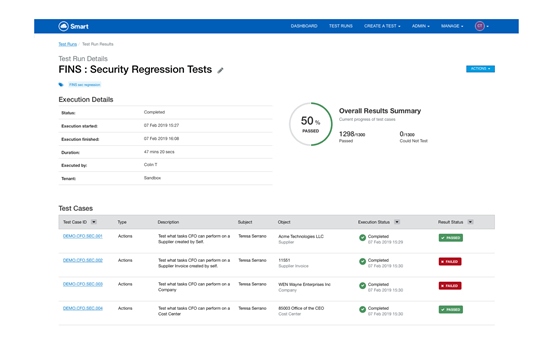 FINANCIALS TEST COVERAGE INCLUDES: financial accounting, supplier management, procurement, revenue management, expenses, and settlement.
See the intelligence behind our automated testing service
Watch this quick overview to see our Smart Test automated Workday testing tool in action.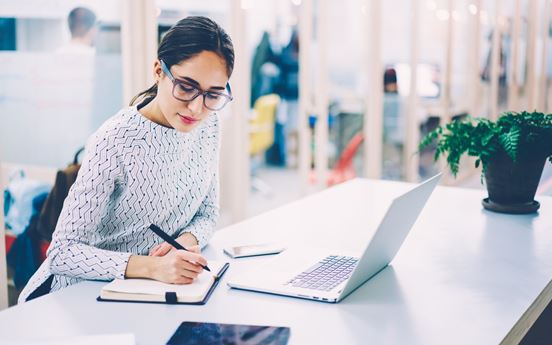 Keep staff focused on business priorities
Cut testing effort and cost
Bye bye resource-intensive manual testing cycles! Smart Test reduces the hands-on testers you need by 90%.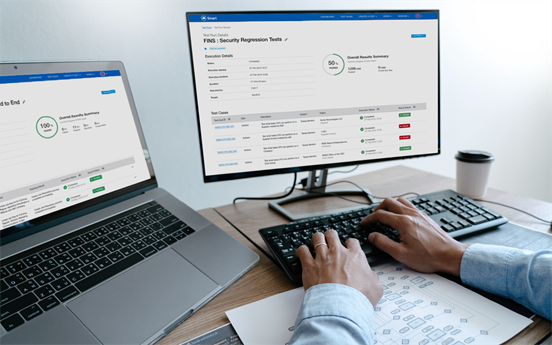 Increase business productivity
Less time spent on manual testing means more bandwidth for operational improvements and handling tickets, training and fixes.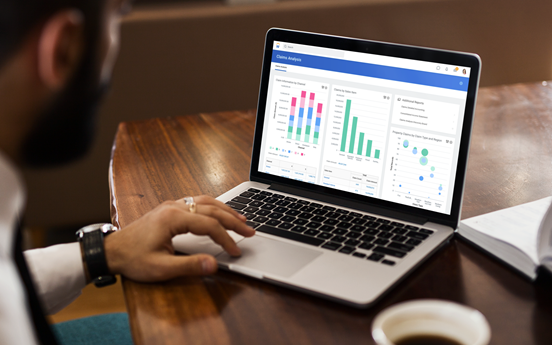 Adopt Workday features faster
Smart Test completes your update testing in 5 hours, giving SMEs all the time they need to explore and activate Workday's exciting new functionality each release.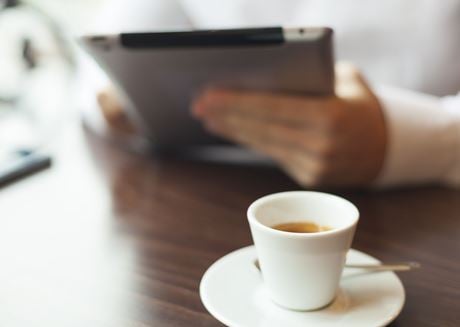 The Definitive Guide to Testing Your Workday Deployment
Bolster your team's testing knowledge and skills with this free guide to Workday testing—full of step-by-step advice and best practice.
Five-factor testing for safer changes and stability
Comprehensive testing at critical times

Confirm that the processes you've changed or added are working the way you want. We run a monthly comprehensive test suite, built in conjunction with your team and tailored to your configuration.

Targeted regression tests

Smart Test assesses your priority and high-risk functionality to ensure they have not been adversely affected by Weekly Workday updates or changes your team have made.

Protect data with security testing

Shield your critical business data from risk. Smart Test helps you know ASAP when Workday security groups or roles can suddenly see or do anything they shouldn't.

Simplifying integration complexities

Workday sits at the center of your business systems, and has multiple inbound and outbound integrations. We remove technical testing complexity, saving you time and effort.

Insights at your fingertips

Smart Test is the bridge between how our teams work together. Your tailored dashboard provides an at-a-glance view of the overall success and failure rate of the tests ran, helping you focus on areas that need the most attention.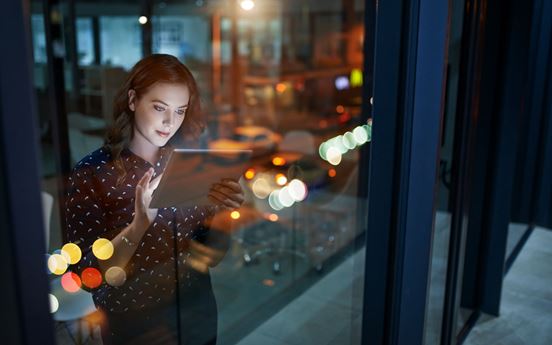 First on Workday Community for automated testing
There's a reason Smart Test is the first name Workday customers think of for automated Workday testing—our stellar record. Check out these discussions in Community for firsthand accounts of how Smart Test is helping real Workday customers.
"Whether it's Security or BPs, or whatever the case may be, Kainos Smart is picking up these changes right away, week in week out without fail."
Moises Benitez  
PMP of HR Technology & Solutions
Signature Bank
"We can continue moving as fast as we're moving, and Smart runs right alongside us carrying a giant safety net—making sure we're doing things correctly and catching us if we trip."
Nathan Stearns
Director of HR Technology
Zynga
"I used to spend 95% of my week testing during updates, with Smart I've been able to reduce this to just five hours. There's no way we would have ever been able to achieve the same coverage using a manual approach, even if we didn't sleep."
Carlos Santamaria 
Manager of Workday Operations
The Met 
"That massive increase in coverage has really helped us mitigate risk. For example, Smart recently identified a critical security issue before it entered production. Had it gone live, a large body of our population would have been able to see compensation for employees they shouldn't have had access too, and we would have had a big issue on our hands."
Sam Abdullah 
Sr. Advisor of Strategic HR Consulting
Cardinal Health
Get in touch
Tell us the challenges you're having with your Workday planning, configuration and maintenance, or testing and we'll help your team overcome them.